A wide range of gardening services for your domestic or commercial property by Paul's Mowing Melbourne
Everyone wants to enjoy a beautiful garden and a lush, tidy lawn. However, not everyone has the time or the right tools to do so, which is where we come in. Paul's Mowing Melbourne offers its clients a full range of professional gardening services for all the people who do not have the time, skills or equipment to maintain their green space regularly.
No matter how neglected or forgotten your garden might be, we have the experts and the know-how to bring it back to life in no time.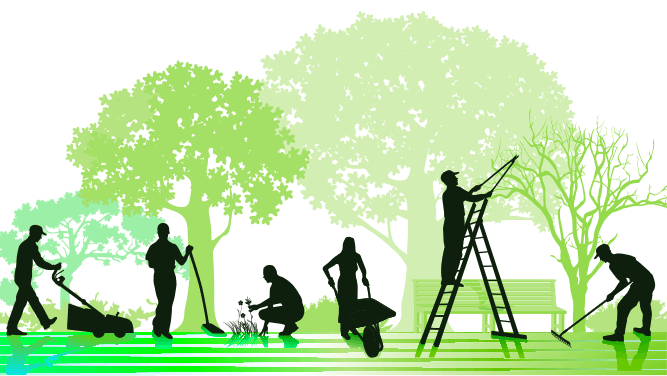 Here is what we offer:
Full week availability. We have available teams every day of the week, including weekends and public holidays!
Fully trained professionals. All the gardeners in Melbourne have years of experience and are also fully insured and vetted to fulfil all the needed requirements for working in Australia.
Affordable prices and free quotes. We always try to use the most of your garden's natural appeal which is what makes our services so budget-friendly and convenient for all our clients. The quotes are also completely free and include all fees, transportation, labour, professional equipment and fuel.
A customisable service. No matter what you need for your lawn or garden or the condition they are in, our trained gardeners will fulfil all of your requirements. You can also make the service a regular one by having a gardener come every week, every fortnight or once a month.
What kind of gardening services do we offer in Melbourne?
By booking with Paul's Mowing Melbourne, you get the full treatment. Combine the services to save time and money or just have them separately, you decide.
Here are the services you can book with us:
Garden maintenance – Complete care for your garden space according to your own personal priorities and desires. This may include but is not limited to weeding, mulching, fertilising, pruning, weed spraying, planting flowers and replanting them, and much more!
Lawn Care – Regular lawn mowing and maintenance, so your grass grows healthy and lush. Additionally, we provide lawn repair services if you have damaged grass plots that are in poor condition.
Green Waste Removal – The majority of garden maintenance jobs result in producing heaps of green waste. Trimmings, cuttings and the residuals from pruning, mowing and leaves raking may be the perfect ingredients for making your own compost. If not, however, we can take care of your garden litter and dispose of it swiftly and at affordable price.
Hedge Trimming – Maintain the tidy look of your hedges and improve the overall look of your property. We have all the right equipment and needed extensions to deliver high-quality results in no time!
Gutter Cleaning – Ensure that your roof stays in top condition by cleaning the gutters at least twice a year. We offer a thorough cleaning service that is not limited in time and will guarantee you a seamless water flow and no more blocked drains!
Pressure Washing – Eco-friendly jet washing service that uses only pure water and high pressure. We can clean your outside decking area, patios, driveways, heavy outdoor furniture, gazebos, fences, and so much more!
Do you need more than just gardening?
To all our customers in Melbourne, we also offer a variety of professional cleaning and pest control services. Whatever you need for your home and office, we can do it!
If your yard needs a professional's touch and some gardening magic, schedule your service with a simple call or a few clicks!