We Trim Your Hedges, So You Don't Have to Trim Your Schedule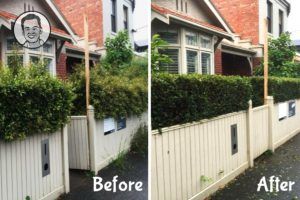 Left to grow out of control, garden bushes and hedges will quickly spoil the tidy appearance of your garden. What's more, getting them back in shape can be quite difficult. It takes time, expensive gardening equipment, and it requires a lot of skill and knowledge to do it properly and without any danger to the plant's health.
When you need assistance or someone else to carry out your hedge trimming, Paul's experienced gardeners will get your hedges back in shape. Equipped with professional hedge trimmers and extensions, the experts will take care of the shrubs, no matter the type or size.
Organise your hedge trimming service Call us on 03 8566 7516 and the friendly sales staff will book the service according to your priorities and time schedule. You can also use our online booking system.
Greet the trimming specialist
The gardener will arrive at the appointed time with all necessary equipment and will begin working according to your priorities.
Enjoy the results
Your hedges are now perfectly trimmed without any effort from your side.
Why go with pro hedge trimming?
Expertly done hedge trimming could work miracles for your entire garden. Hedges are often used to provide privacy but when not trimmed properly they won't grow thick enough. Overgrown hedges and bushes will hide other plants, get in your way, and generally be a steadily growing thorn in your side until properly trimmed.
And that's not all! By booking with Paul's Mowing Melbourne, you will also enjoy the following benefits:
Full week availability and options for same-day booking. We work every day of the week and don't charge extra if you want a service done during a public holiday or the weekend.
High-end, petrol-powered equipment is included in the price. If you want to enjoy the best possible results, you cannot count on simple, store-bought equipment that might even ruin your hedges even more. We bring the tools and the know-how to deliver a 5-star experience no matter the condition of your foliage.
Completely customizable service. You can book just a one-off trimming service. Or have it every two weeks. Or every month. Or combine it with other gardening services that we offer. You can do anything! You design the service you need and it's up to us to deliver it.
Trained gardeners with years of experience. All the professionals, we work with, are local service providers that are completely vetted and insured. They will come wearing protective gear like masks and gloves, as well as overshoes, should they need to pass through your home to get to the garden.
Other gardening services that we offer in Melbourne
Count on Paul's for a proper trimming! Contact us today for a free quote on our services. If your garden needs complete care book hedge trimming as part of our garden maintenance service and we'll thoroughly pamper your yard!