Clean Up your Garden with a Simple Phone Call
With Paul's Mowing Melbourne you gеt garden clean up and green waste removal with every mowing or gardening service you book. But if your yard is piling up grass clippings, fallen leaves, and stray branches for whatever reason – We can get it sorted.
Book a service with Paul and the licensed garbos will free your property of any debris, grass clippings, fallen leaves, and other green waste products that clutter the look of your garden.
At a Bargain too!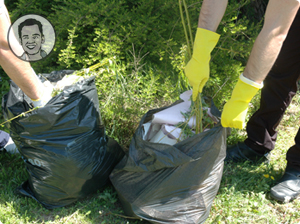 Booking a green waste disposal is all you need to do. Everything else is on us. The service is tailored to the specific task, with no additional fees. Keeping a yard clean can be an uphill battle, but it is important part of the garden maintenance. It helps keeping pests and diseases away so that you can enjoy a healthier and safer garden in addition to a crisp and tidy look.
We just need to know how much waste you have, what's the most convenient pick up time, and whether you need something extra from us.
As far as the price is concerned, the quote you get depends entirely on the volume of the waste you need removed. It covers all the expenses on loading and transportation such as tip fees and fuel as well.
 Learn more: