Help your garden out by scheduling a green waste collection today!
Having a garden full of green debris can look quite unflattering and can totally ruin the curb appeal of your home. Fallen leaves, stray branches and grass clippings may not sound like much but they tend to multiply constantly. If you neglect cleaning up regularly, one day you'll just wake up and your lovely garden will be full of green waste and not very pleasant to look at.
What do you do then? You can collect it on your own and throw it in the green bin, should you have one in proximity. But what if the debris is just too much? You don't have enough bags or a bin but you can't just leave it like that, no. For cases like this, we offer our specialised green waste removal service in Melbourne.
Schedule an appointment
Simply book your service online through our website by stating your priorities and details or give us a quick call and we will organise the service for you.
Greet the specialist
The green waste collector will arrive at your property on time with all the needed equipment for the job. He will put all the debris in strong bags and load them to his van.
Enjoy a clean yard
Once he has disposed of all the green rubbish, you can finally enjoy a tidy, clean garden without lifting a finger!
How does our garden waste disposal service in Melbourne work?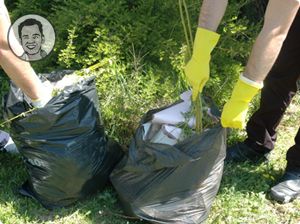 You probably know that the generous city of Melbourne offers green waste removal for free to its citizens, however, you can use this only once a month on a special Saturday appointed to your suburb. Paul's Mowing Melbourne offers complete flexibility and customization to the service in order to suit all of your needs
We just need to know how much waste you have, what's the most convenient pick-up time, and whether you need something extra from us.
The service includes:
Full week availability, including weekends and public holidays. Organise your service for a day and time that fits your personal schedule.
Free online quote. Customize your service through our website and you will quickly receive an answer with your personalised free quote.
Fully contactless service. For your safety and our experts', we now offer a completely contactless service which means that you pay and give us your priorities online. On the day of the service, you only have to provide access to the place and the professional will come to perform the service without even meeting you.
Option to combine with other services. If you need a good lawn mowing or perhaps a garden maintenance service, why not save money and book those services together with your green rubbish removal? You will save time and money and enjoy a beautiful green space with zero efforts.
Professional equipment included. We bring everything with us that is needed for the service like bags, tools, protective equipment and more.
Quote includes loading, transportation, fuel and tip fees. The quote you will receive on-site is the final price. You will also have a price estimate before the technician arrives but we always prefer to confirm that on site as things look different on pictures sometimes.
Learn more:
Check out our other gardening services in Melbourne
For your convenience, we offer a full range of gardening services in order to give your green space the full treatment it deserves. All of those services can be organised as a one-off or a regular service, depending on your needs.