Quality roof protection in Melbourne with our thorough gutter cleaning service
A badly maintained gutter system may lead to many problems, which is why it's often recommended to clean it at least twice a year. It will prevent blockage, flooding, damage and the build-up of dirt in your roof and gutters.
Whenever you feel that something is wrong, just call the professionals with Paul's Mowing Melbourne and they will quickly remove all the built-up debris by using special equipment and tools.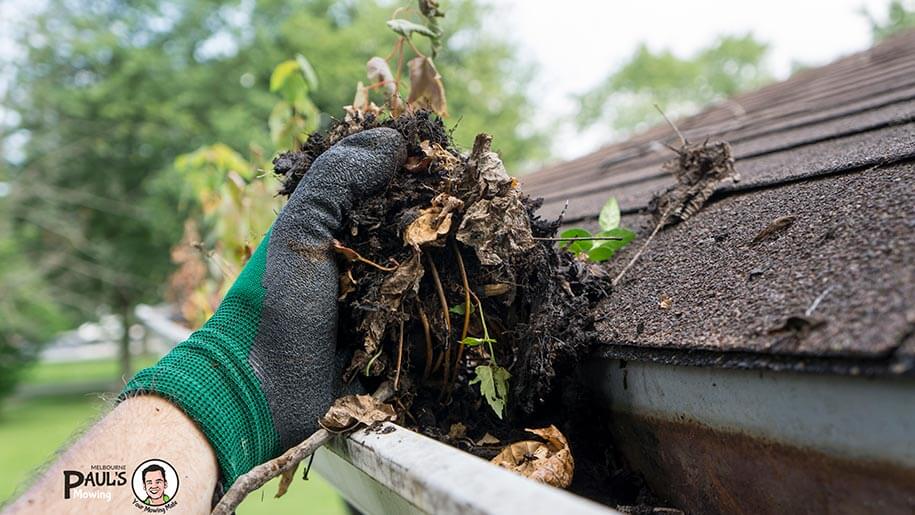 It´s that simple!
Schedule your cleaning
You can do this by calling us on the phone or by filling out a simple booking form on our website.
Greet the expert
The technician will arrive and start by inspecting your property's gutter work.
Let us do the hard work
He will then gently clear out any leaves, debris, and insect nests from the gutters, flush the downpipes and bag the waste to dispose of it.
Why do you need a professional gutter cleaning?
Debris builds up constantly and that's completely normal, of course. However, if you do not clean it up regularly, it may lead to many problems like potential pest infestations from rodents and insects. There is also the risk of fire when you have a bunch of dry leaves piled up on your roof during bushfire season. Ignoring your gutters will surely result in a ton of damage and expensive repairs that you can very easy evade just by taking care of the situation quickly.
Be cautious and look for signs of blockage such as the way water flows when it's raining. If it goes through the pipes freely, then you have nothing to worry about. However, if you notice that the water is cascading in different spots from the roof, then you might have a blockage problem
Why go with the professional gutter cleaners with Paul's Mowing?
We offer you full week availability, even on public holidays, with no extra charge!
Professional equipment and transportation fees are included in the final price, so there are no hidden charges whatsoever!
Performed by qualified technicians with years of experience. They are also fully insured and vetted.
Option to combine this with other services like gardening, high-pressure washing, and more!
24/7 Customer Support line to help you out should you have any questions or you want to change something with the booking.
Fully contactless service! You pay and give your priorities online. On the day of the service, the technician will just arrive and finish the job without having to meet you.
Other gardening services that we offer in Melbourne
Garden maintenance – Book a gardener to take care of all the tedious tasks around the garden like weeding, trimming, mulching and much more.
Lawn maintenance -The lawn mowing experts will bring your yard back to life by using professional equipment and great gardening skills.
Hedge trimming – Well maintained hedges can completely change the look of your home, so don't let them overgrow and book a trimming service with Paul's Mowing today!
Green waste removal – Clean up your garden from all the accumulated debris. It can be booked separately or as part of other gardening services.
High-pressure washing – Restore the shiny look of your outdoor furniture and surfaces like fences, stairs, patios, driveway and decks by booking a power washing service today!