Many homeowners wonder if they should get one of those mowing tractors to cut their grass. It's hard to simply say 'yes' or 'no' because there are too many circumstances that play a role in the decision-making process. However, after reviewing some of the most important factors, everybody can get a clearer idea of whether they should buy a sit-on mower or they're better off just using the good old walk-behind type. If you too are puzzled, keep reading and find the right answer for your yard in Melbourne.
Lawn Type & Grass
Usually, the large size of a lawn is the number one reason to make you think of buying a riding mower. If your grass-planted area is rather vast, it would make perfect sense to use a more powerful machine than your regular tool. Closely related to the size of turf is the time you spend mowing back and forth, although there might be a few other things that slow down the process other than the size. If a few hours are not enough to finish the job, a lawn tractor is exactly your cup of tea. Keep in mind that your garden care habits may be of importance as well. For instance, if you tend to let the grass overgrow, you'll surely need a mean mower to cut it.
Additional Factors To Consider
Price range is key whenever you decide to purchase an item supposed to serve you for many years. There's no denying that a ride-on mower would be an expensive piece of machinery for many households in Melbourne. That's why all other factors should be reviewed in detail so that you don't waste your money for something your family doesn't actually need. Your physical shape is the next thing to help you determine which one is the better option. If your mobility is limited due to a health condition or you just don't feel quite well when walking and mowing, then the tractor might help a lot. Nevertheless, while it's not required to have a driving license in order to operate a sit-on mower, some skills will make things easier. That's why a driver will feel much more comfortable when cutting grass with a ride-on mower, compared to a total newbie.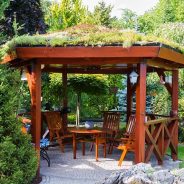 You've probably heard about pergolas and seen pictures of them, thinking they are only meant for the rich and powerful. That is not true! Pergolas are a very affordable and amazing solution for any outdoor area! In this article, we will take a look at all the benefits you will get from installing one, possible applications and the different kinds so you can make the best possible choice for your property. What is a pergola? They are an outdoor roof structure having four open sides supported on vertical pillars with climbing plants, wood or leaves, and are ideal to be used for unenclosed dining spaces or small kitty parties. They beautifully form a shaded walkway, a passageway, or a sitting area. The concept of pergolas is unique with the ability to add spark to your backyard or your garden. They can also be installed on your entrance. Many people use them when they want to organise an open marriage ceremony in their own home or even an outdoor birthday party. Similar to decks, pergolas are a great way of...
read more