Good ventilation is crucial for the successful operation of any lawn mowing equipment and that's especially valid if it's a ride-on mower. In your lawn tractor, filters ensure that air is moving freely and is delivered to the carburettor. If there is some build-up of filth that stops the airflow, your engine will most likely overheat – and you know this can't be good to the life expectancy of your machine. Read our step-by-step tutorial to give your air filters a deep clean and to make sure you do exactly what lawn mowing service technicians from Melbourne would do. Bear in mind that our tips might slightly differ from what's written in the manufacturer's instructions which came with your particular device.
Breathe New Life Into Mower's Filters
Cleaning the air filters will help your engine work at its best, so next tips should be useful if you want to do this all by yourself.
Gain access. The very first thing to start with, is removing filters' cover. Unscrew all wing nuts you see, so that you can get rid of the cover and get closer to the filters.
Clean up the space around filters. While everything is still in place, wipe away visible grime using an ordinary cloth. Pay special attention to the dirt found on the surface of rubber gaskets.
Take out filters. Now it's time to finally remove the air filter. If there is a pre-filter – take it out as well.
Give them a good clean! This is the most important part of the whole routine. It's recommended to take care of the pre-filter at least once during the year, or two times if you tend to mow your Melbourne lawn more frequently. Prepare a mix of pure water and dish-washing liquid from the kitchen. Use this solution to wash the pre-filter, let it dry.
There is a different way to clean the main air filter – you don't wash it. Instead, simply pat it carefully on a table to let dirty particles fall down. If this doesn't help much, consider buying a new filter. Foam pre-filter must be replaced too, if washing can't do the trick.
Bring all parts back to their place. At the end, just reinstall the filters. Put the cover and fasten with the wing nuts. That's it, your mower is now ready to hit the lawn!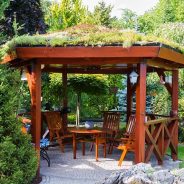 You've probably heard about pergolas and seen pictures of them, thinking they are only meant for the rich and powerful. That is not true! Pergolas are a very affordable and amazing solution for any outdoor area! In this article, we will take a look at all the benefits you will get from installing one, possible applications and the different kinds so you can make the best possible choice for your property. What is a pergola? They are an outdoor roof structure having four open sides supported on vertical pillars with climbing plants, wood or leaves, and are ideal to be used for unenclosed dining spaces or small kitty parties. They beautifully form a shaded walkway, a passageway, or a sitting area. The concept of pergolas is unique with the ability to add spark to your backyard or your garden. They can also be installed on your entrance. Many people use them when they want to organise an open marriage ceremony in their own home or even an outdoor birthday party. Similar to decks, pergolas are a great way of...
read more